You all know how much I love buffalo chicken stuff! These low point slow cooker buffalo chicken sandwiches are easy and delicious!
This post contains affiliate links. For more information, see my disclosure page here. As an Amazon Associate I earn from qualifying purchases.
I have been making this recipe since my friend introduced it to me about 10 years ago and it is always a hit in my household.
Introducing the delicious low point Slow Cooker Buffalo Chicken Sandwiches!
These babies are THE BOMB.
This recipe is super duper easy-peasy.
It also makes a huge batch so you can freeze it for easy thawing later on or you can eat the leftovers on salads, pasta, you name it!
A staple I always have on hand in my kitchen is this.
It is so versatile, I use it at least once a week while cooking.
It adds so much flavor to the foods I cook without any guilt!
If you've read any of my previous posts, you know I love this hot sauce.
It's the MVP of this recipe and it is ZERO points!
Lots of flavor, little guilt.
I use Village Hearth™ Light Italian Buns for this recipe.
They are low points and they taste like a regular bun to me.
They really make this recipe more enjoyable!
They also have whole wheat buns if you prefer them over white buns.
The original recipe I got from my friend called for butter to be added to the recipe.
I left out the butter and could not tell a difference.
At all.
See ya butter! (Never thought I would say that.)
I like making this recipe when I know that we have a busy week.
One batch of this will last at least three meals for our family and give me some to use as toppers on my lunch time salads.
I especially like that you can just throw the chicken breasts in the crock pot while they are frozen and they slowly cook all day while we are gone.
There's nothing like coming home to a hot meal after a long day at work!
This recipe literally takes about 2-3 minutes to make.
I throw everything in the crock pot, set it to low and forget about it until it's dinnertime and my family starts sniffing around the kitchen for what smells so delicious and then the question comes…"What's for dinner?"
That question usually really irritates me.
I'm the only one that cooks in this household, and I have 1,000,000,000,000 other things to do, so when someone asks that it irritates me some days.
Not when I make this recipe though!
This low point Slow Cooker Buffalo Chicken Sandwiches recipe is lower calorie, low carb, gluten free (without bun) and so yummy, you'll be making it over and over again.
You can serve this alone on a bun, or for an extra point, you can drizzle some of this dressing on it for more flavor or a little bit of a cool down if heat gets to you.
Add one tablespoon for one extra point.
I serve it with a side salad for an extra low points dinner.
It's filling and satisfying.
You can add lettuce, tomato and any other veggie to the sandwich for no extra points and to amp up the flavor as well.
I hope you enjoy this recipe as much as we do.
My whole family loves it and they have no clue that it's healthy and low fat.
These Low Point Slow Cooker Buffalo Chicken Sandwiches are definitely a winner in my book!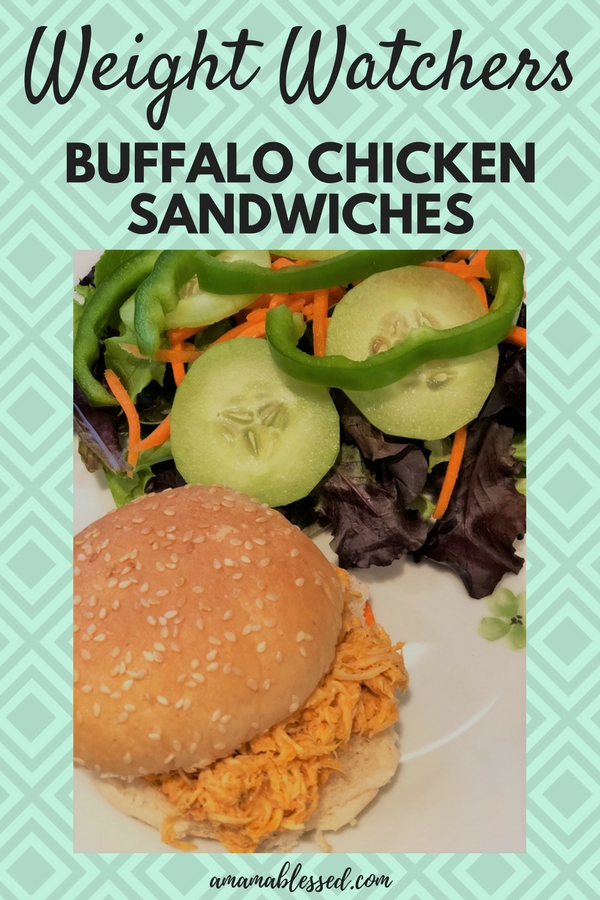 Low Point Slow Cooker Buffalo Chicken Sandwiches
Ingredients:
4 boneless, skinless chicken breasts
1 package of this seasoning, unprepared
1 cup of Frank's Red Hot Sauce
Hidden Valley Greek yogurt ranch dressing (optional for 1 extra point per tablespoon used)
Village Hearth Lite Italian Buns
Directions:
Place frozen chicken breasts in bottom of crock pot or slow cooker.
Sprinkle the whole packet of seasoning over the chicken.
Pour Franks Red Hot sauce over the top of chicken and ranch seasoning.
Cover and cook on low for 8 hours.
If you use thawed chicken breasts, check on the chicken after 4-5 hours, as it will cook through quicker.
After cooking, shred chicken with forks or with an electric mixer. This one makes shredding chicken a breeze!
Place 1/2 cup chicken between Village Hearth bun.
You can top the chicken with 1 tablespoon Greek dressing if you would like, for one extra point.
Top with lettuce, tomato or any veggie you would like!
This recipe makes 10 servings.
Personal Points™ Value: 3 Points (with bun) 1 Point (without bun)
***For the most accurate points count, enter this recipe into your W.W. app recipe builder. WW Personal Points™ calculates points differently for each person, so your points value for this recipe may vary.***
Blue Plan = 0 Points (without bun)
Green Plan = 2 Points (without bun)
Purple Plan = 2 Points (without bun)
Please reach out and let me know how you like these sandwiches! I love to hear feedback!
Enjoy! Happy eating!
Carissa