Here it is! The Arbonne 30 Days to Healthy Living Review!
This post contains affiliate links. Click here to read more about that on my disclosure page.
This program couldn't have come at a better time in my life.
I have been following Weight Watchers for a solid year (before that I was on and off of it) and I had hit a plateau.
I was getting frustrated.
I was no where near my goal weight.
I'd lose a little one week and gain a little back the next.
When my friend told me about the Arbonne 30 Days to Healthy Living program and how it resets your body, I knew I needed in on it.
Now, here I am sharing my Arbonne 30 Days to Healthy Living Review with you!
I was feeling exhausted, bloated, suffering from horrible monthly cramps, anxious, cranky, drained and was sick and tired of being sick and tired.
Click here to read my post about why I chose the Arbonne 30 Days to Healthy Living program and what it's all about.
I knew what I had been doing wasn't working anymore, so I went onto Arbonne's website and ordered it.
It came about a week later and I spent that weekend learning about the program, what I could and couldn't eat, and what I needed to do to make sure that I was the most successful I could be.
At that point there was only 14 Mondays until June…now there's only 7! Ahh!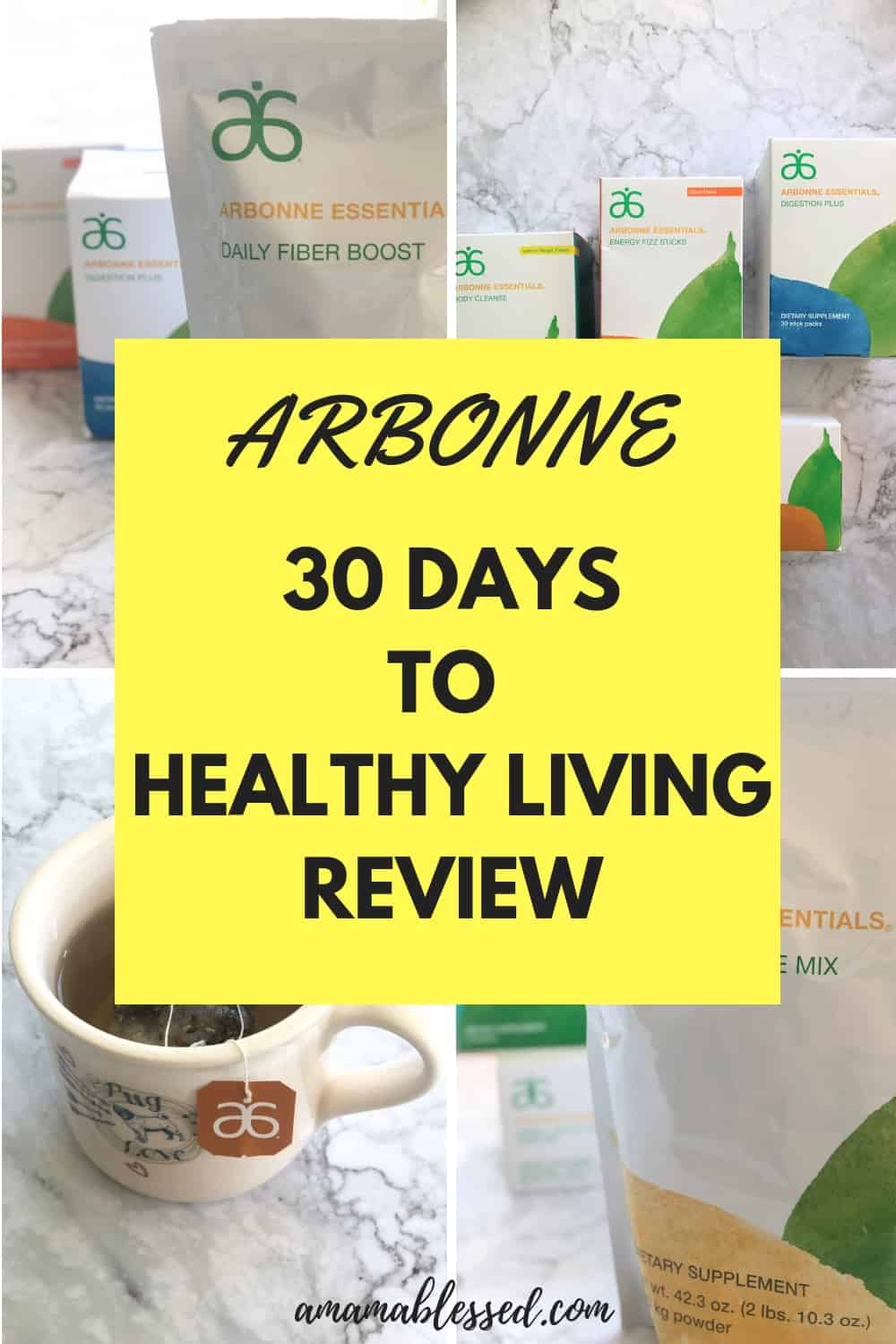 I researched a bunch of recipes and meal prepped so I would be prepared.
That's really a key of any eating plan, and if you've been following WW or any plan like I have, you know how important prep is.
I stocked up on healthy fats such as nuts, avocados, olives, flaxseed and sunflower seeds.
I also stocked up on veggies, lean protein and good carbs, such as quinoa, brown rice and sweet potatoes.
I planned out my meals for one whole week at a time.
That way I knew I wouldn't be scratching my head, trying to figure out a meal or snack at the last minute and then give up and cheat.
Pinterest was a big help in finding meals that were dairy free, soy free, wheat free, yeast free, gluten free, and…sugar free.
That includes artificial sweetener free.
I was so uneducated about sweeteners, I thought I wouldn't be able to eat anything sweet for 30 days.
Do you know that coconut sugar is a thing?
It's a thing!
And, it helped me get through the 30 days.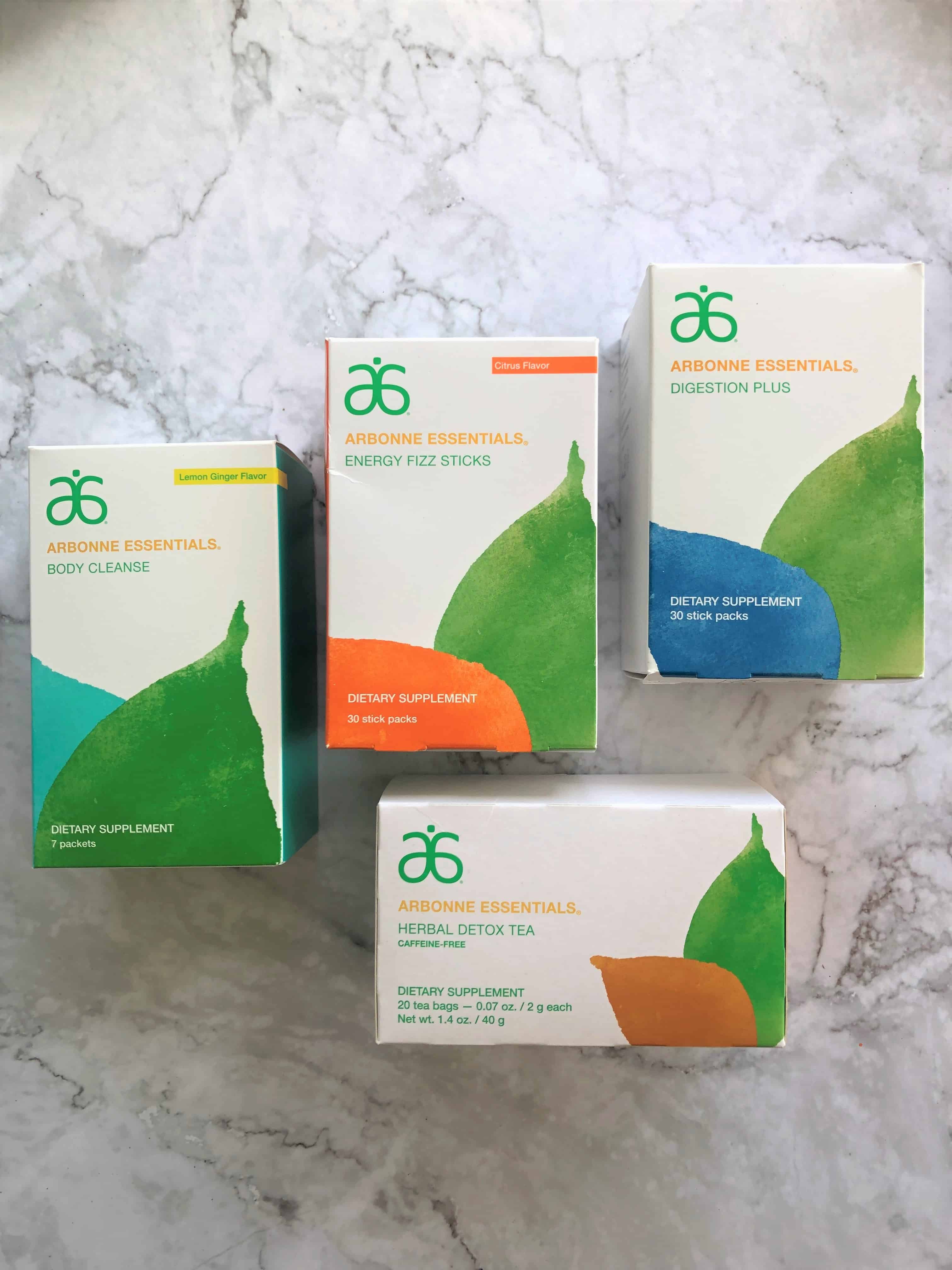 When I sat down to write this Arbonne 30 Days to Healthy Living Review, I really didn't know where to start.
There's so much to talk about!
Here's my honest review in a nut shell.
I loved this program, and it changed my life.
Now, let me say this.
I'm not a big lover of the at-home party businesses and products.
I cringe when I get an invitation to a LuLaRoe, Tupperware, Thirty-One, or any you-name-it party.
I have always just felt like the products were so expensive and they were never worth the money.
Well…Tupperware, maybe.
Even my best friend was surprised that I was using Arbonne products.
She said, "Usually you're always so skeptical."
I am.
That's how much I love these products!
Since I'm a consultant, I get 35% off products and 50% off special value packs, so I don't feel as bad spending money.
In fact, this month they have an awesome deal going on where you can become a preferred client (like an Amazon Prime membership – saving you 20-40% all year, free shipping and free gifts) for free when you spend $150.
That's a savings of $29.00 that saves you even more money all year.
So, if you're thinking about trying this, right now is the best time.
Really, I shouldn't feel bad spending money on my health, but you know what I mean.
I promised myself that I would complete the 30 days because I can do anything for 30 days.
But, I also took it one day at a time.
When planning my meals for the week, I wrote out breakfast, snack, lunch, snack, dinner.
I found myself often times not eating my morning snack because my breakfast would fill me up.
So, sometimes I would move that snack to the evening while we were watching one of our shows.
My go-to snack was Granny Smith apples and cashew butter.
Yum!
I started out the program drinking the shakes for breakfast.
I noticed on the first day after drinking the shake, I had two small hives on my cheek.
I didn't think anything of it.
The next day, I made another shake for breakfast and the same thing happened, but this time, my whole cheek was itchy.
Then I remembered.
About 10 years ago, there was a new drink that came out that was similar to flavored bottled water, but it claimed to have vitamins in the product as well.
I tried the product a couple of times and loved it, but each time I drank it, my cheeks broke out in hives and started to itch.
So, I had to quit drinking them.
I remember thinking it was the stevia in the product.
Turns out, Arbonne sweetens their shakes with stevia.
When I remembered, I had a small panic attack because I thought my whole 30 day journey would be ruined.
What was I going to replace the shake with?
Would I just skip the meals I had scheduled as a shake?
So then I hit Google and found that there were a few protein shakes out there that didn't use stevia as a sweetener, but used monk fruit instead.
They were compliant with the 30 day program.
Until the shakes came, I ate 3 meals a day, with 30 day compliant foods.
To keep a long story short, the Arbonne shakes spoiled me because they were so good.
The shakes I bought as a replacement, well….they were awful.
So, the first week was bumpy because of the shake experience, but, I just ate when I was hungry and made sure to include only foods that were 30 day compliant.
I completed the program without the shakes.
The first couple of days I enjoyed the ease of throwing together a quick meal on the go (shake) and I really liked the taste of them.
So, I was bummed when I couldn't drink them, but I made it work.
I am pleased with my weight loss results but I will always know that I probably would have lost more if I was able to drink the shakes.
I counted my points each day, and most days I was over points, but I still lost more weight than I had in months following WW.
I lost a total of 9.8 pounds in 30 days.
I feel like I lost a lot of it from my stomach area, which is what I was hoping for.
I think most of that was bloat, but still, it looks better and I'm pleased.
My anxiety was almost non-existent.
I have heard that anxiety can be caused by diet but I didn't really believe much of it until I cleansed my body with the Arbonne 30 Days to Healthy Living program.
My skin looks so much better than it did before.
I'm also using Arbonne skin care products, and I think coupled with the 30 Days, I have almost cured my rosacea.
One of the best things about this was that it made my menstrual cramps go away.
I have struggled with debilitating cramps since I was 10.
Yes, 10 years old.
Once a month I wanted to crawl under a rock until that week had passed.
My friend and I even refer to it as "the tiny ninja" because it felt like there was a ninja inside my womb trying to ruin my life.
A little over a week into the 30 days program, Aunt Flo showed up.
I kept waiting and waiting for the pain to start, but…it never did.
I truly believe it was because I wasn't eating inflammatory foods and was cleansing my body of all the gunk that had built up in it over the years.
That alone, is worth the price of the program and I'd pay it a million times.
I found this plan the easiest to follow, out of all the diets I have tried in my life.
I didn't feel restricted because no matter what I was craving, there was an alternative.
I made these awesome Snicker Doodle Cookies, that were better than any flour cookie I've ever had.
This pumpkin bread was amazing and definitely satisfied my sweet tooth!
My most favorite thing ever is this soup that I discovered during the 30 day journey.
Believe me, I was nervous giving up all of those types of foods.
I was pleading for a buddy to do the 30 days with me, but it turns out, I didn't even need one.
Which is good because no one wanted to complete it with me. 🙂
Anyways, I really don't have a bad thing to say about this program because it gave me the results I wanted (see picture above), I didn't feel deprived or hungry, I'm feeling so much better and it made me happier.
What else could you want?
I just wish they didn't use stevia as a sweetener in their products; that's my only complaint.
I'm going to follow this about 80% of the time now, and slowly add foods back in one at a time to see what I'm sensitive to.
I mean, if I'm not sensitive to dairy, this mama is not giving up cheese.
The program in a nutshell is this:
-you replace one or two meals a day with an Arbonne protein shake – they're yummy!
-you fill your plate with half vegetables, one quarter protein, one eighth healthy fat and one eighth healthy carbs
-half way through, you drink the cleanse for 7 days
-each day you add the fiber boost to food/shake/drink
-drink one digestion plus packet a day
-you replace caffeinated drinks with up to 2 fizz sticks a day
-have up to two herbal detox teas a day (loved this tea!)
-you cut out wheat/gluten, soy, sugar, artificial sweeteners, alcohol, dairy (yes, no cheese, and I made it through), coffee and vinegar
-move more (just more…not hard workouts or anything, unless you want to)
So, if you are feeling like crap, want to reset your body, want to cleanse your body of gunk, want to cut down your inflammation, want your skin to clear up, want to be happier…then the Arbonne 30 Days to Healthy Living is for you.
You don't need to buy the whole value pack to be successful on this program, but I recommend trying it at least once to find out which products you can't do without and which ones serve you the best.
I know that I'll be ordering more tea, digestion plus, and fiber boost for myself , but also protein shake mix and fizz sticks (my husband loves both of them)!
I'll be doing the 30 day program again in May.
I would love to have you join me this time!
I'll add you to the Facebook support group (was a great help), and I'll be your personal accountability coach.
When I say you can do anything for 30 days, I mean it.
It wasn't difficult and was so worth it. So. Worth. It.
Contact me here if you want to get started.
Check out my Arbonne website here.
I'll help you decide what's right for your budget and get you ready to take some easy steps to change your life.
I hope that you've enjoyed reading my Arbonne 30 Days to Healthy Living Review!
I'm here if you have questions!
XOXO
Carissa